Looking for an easy
Valentine's Day
present for your kids to make for teachers, friends or parent?
I made these chocolate pretzel sandwiches over the holidays, forgot to write about it and just found it in my archives!! It was meant to be. These are such easy treats for you to make with your kids and they taste awesome! It's embarrassing but I had some candy canes left over from the holidays, ground them up and used the peppermint as a dusting.
Add these bites to bags, mason jars or a cute little candy box

to

make

an easy

Valentine's Day gift.
Pinterest Inspiration: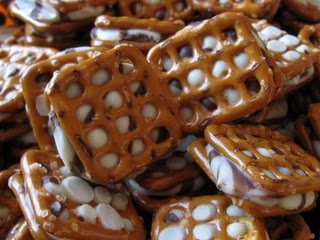 1 bag of Hershey's Kisses (any flavor will work)
1 bag of Pretzel squares
Parchment, waxed paper or slip mats
1. Preheat oven to 300 degrees.
2. Line baking sheet with waxed paper or Slipmats.
3. Lay base pretzels down (perfect chore for a kid)
4. Place unwrapped kiss on top of pretzels.
5. Place tray in the oven for 2 min, just until they are glossy and almost soft. It's better to under than over heat these.

6. Remove from oven and let sit for about a minute before topping with another pretzel.
7. Before placing in the fridge, sprinkle with any additional topping you'd like. I ground up candy canes and sprinkled peppermint dust on each one.
8. Cool for at least 20 minutes before enjoying these sweet little bites.